D-Stoner Machine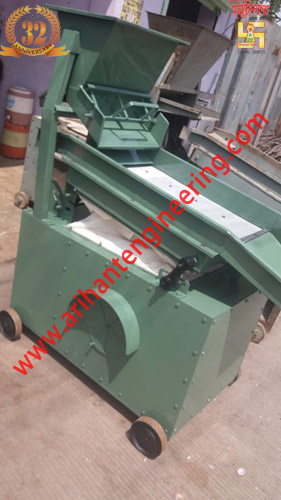 Swastik vibro shifter is one of the most versatile machine, Which can perform the operation of classification, Grading, Oversize or Under size Removal, De-watering, Fiber recovery, Filtration or any type of SIZE based separation
Swastik vibro shifter is Reliable and Economic Solution for any Screening, Grading, Filtering or size separation needs in your process
Principle
Seperation of materials is based primarily on specific gravity differentials of various material i.e. heavy and light materials can be seperated.
Application
Over and equal from grains commercially used in float and splintery grains other of more nearly equal.
Construction
Fabricated from heavy gauge M.S. Plates and angle iron composite drive with electric motor hous
Drive
V-Belt drive through electric motor with belt tensioning arrangements.
Feed
Can be adjusted through manual operated damper.
| H.P. | Deck Size | Capicity KG / Hr. |
| --- | --- | --- |
| 3 | 20" x 32" | 200-350 KG |
| 5 | 30" x 32" | 450-700 KG |
| 5 | Double Deck | 1500-2000 KG |